I found out painting shoes is a great way to fix a pair of shoes that are basically garbage.
I have a pair that are so comfortable, I've had them for years. But they were worn to the point I couldn't wear them.
When I was at the Toronto Home Show last fall and saw the stockists for Annie Sloan Chalk Paint™ dying fabric, I wondered if I could paint the shoes. 
I figured if it didn't work out I wasn't loosing anything because, like I said, they were useless. I used Annie Sloan Chalk Paint™ in Graphite. After 2 coats I sealed them with her clear wax. 
I can wear my shoes now!! They are still comfortable and even though I painted over suede, they look great.
Not brand new, probably not in style any more…but they are comfortable and I can't wear heels for very long, so these will work for me.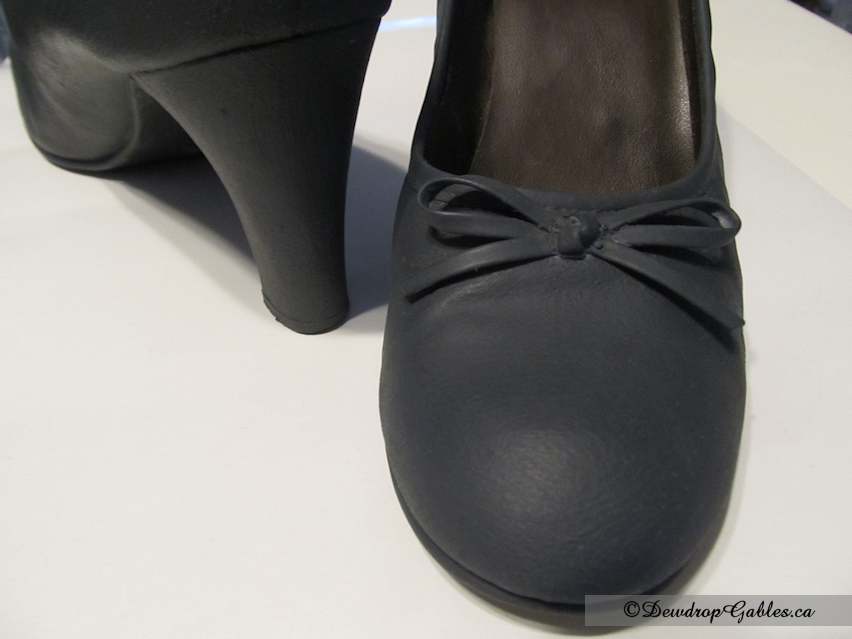 Sorry about the quality of the next couple of pictures, my husband took them and he isn't as experience with the camera. 
I'm so happy these shoes are wearable again. Painting shoes just might become the norm around here…recycle, reduce, reuse…
Now, to get my husband to take me out so I can wear them.
I'm sharing with:
Project Inspire{d}
Our Sunday Best Showcase
I was featured at:
Muslin and Merlot