DIY kitchen makeovers that I've seen online all look so fabulous and I've been getting lots of ideas, waiting for the day we start ours. Well, it's finally happening!! We still have a long way to go, but I wanted to show you what we've been working on so far.
*Warning…it's photo heavy…sorry*
I've hated our floor since we moved in 15 years ago, and I am so happy it is gone!
You can see how overdue it was…
That mismatched drawer was added after we moved in. It will all look the same by the time I'm done
We started our DIY kitchen makeover by washing the walls, ceiling & cupboards with TSP (this stuff is amazing!!!)…
Then it was time to paint. We used Benjamin Moore paints from Mayfair Paint N Paper. Did you know you could get zero VOC paint for interiors?
It was news to me (I'm a little slow…sometimes). This is what our interior designer, Erin, at Mayfair sold my husband…
We got ceiling paint in white
Iced Cube Silver 2121-50 for the walls
Misty Gray 2124-60 for the trim
Silver Half Dollar 2121-40 for the wall below the chair rail
I'm also using the Half Dollar on the door panels with the Iced Cube on the doors. 
Thanks Erin, it's great to know we have you to turn to when we need help! 
After the painting was done, Larry and a buddy installed the floor. I tell you, I am in love with this product! I purchased it at Lowe's and a friend loved it so much he used the same flooring for his huge kitchen. It is a floating, locking vinyl that is perfect for moisture areas…like our kitchen and bathroom.
Their customer service rep talked me through the installation and it couldn't have been easier! They didn't need to rip up the old floor (they did fill in the few holes in the old tile), it installed right on top. 
And this is the kitchen so far. I still have to paint the quarter-round to be installed in front of the kick plates…
I need to paint the hutch, (blog about the table & chairs makeover!), find a new home for the water cooler…
Paint the cupboards…
Get rid of that ugly microwave and get a new white one for above the oven. Oh, and purchase a new white wall oven. Shhh…don't tell Larry!
The floor looks like old barn boards, we just love it!!
But didn't like the faucet…
Here's my new kitchen faucet! What a difference a little change makes. Also purchased at Lowe's, a bonus because it was on sale!
I still have to hang the wall décor and purchase new covers for the outlets and switches.
Oh, and I bought enough floor to do the main bathroom, too! 
The bathroom will have to wait a bit to be completed, the floor is down but since we only painted a couple years ago, there is no rush (in Larry's mind…I want it done asap!)
But, while the door was off, I started painting it. And Larry goes away next month on an ice fishing trip, so perfect time to get the bathroom done…while the cat's away… 😉
I probably should have broken this down into two posts or more, but I'm so erratic in my posting I figured I'd better do it all while I'm here.
So far we haven't had any problems with our DIY kitchen makeover, and I hope it stays that way.
We have a long way to go, but since I fell on the ice on the way out to the chicken coop and have a badly sprained wrist, most of it will have to wait.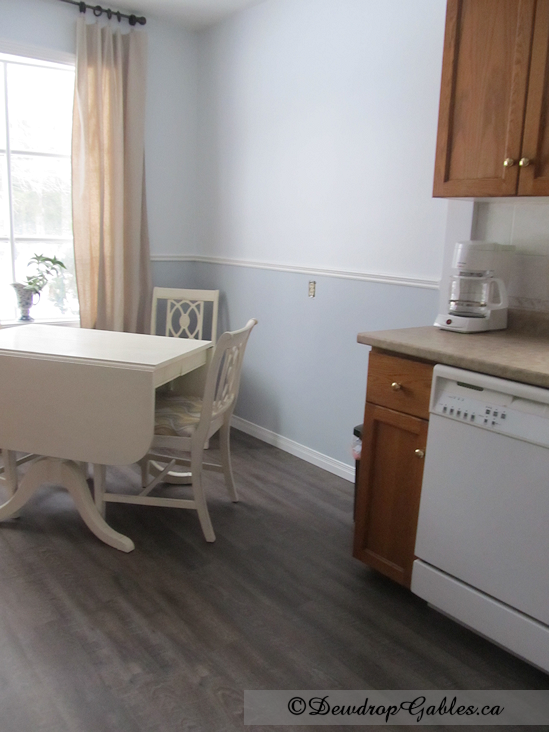 However, I'm thrilled with how it's turning out so far!!
I'm still debating on colours for the cupboards, I'll be using Annie Sloan™ Chalk Paint and have a couple of ideas. 
I'm sharing at:
My post was featured at!!