Are Poinsettia Poisonous?
At Christmas time, poinsettia are a popular decorating plant. I worked in a garden centre for a number of years, and in November we would get a shipment of thousands of poinsettia. And every year, the one question many customers would ask, are poinsettia poisonous to my pets? I always replied no!
Poinsettia and Children
Poinsettia can sometimes cause a mild allergic reaction if someone were to come in contact with the white sap from a broken leaf. Eating a leaf could cause a mild case of diarrhea or nausea, but a child would have to eat hundreds of leaves to get a heavy dose of toxins.
MedicineNet gives you more in-depth information on how the myth was started and the truth about the poinsettia.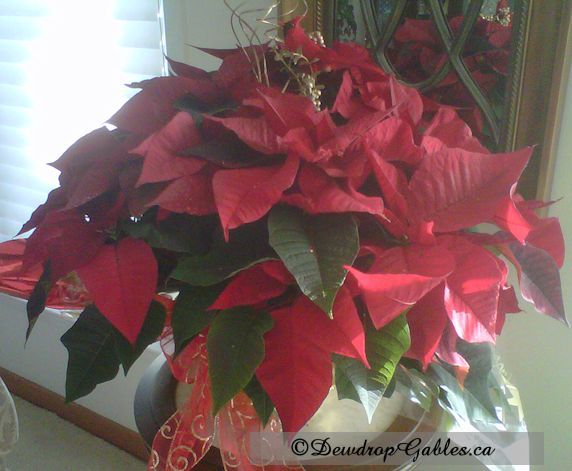 Poinsettia and Pets
The garden centre has two cats that live there, and they walk and sleep among the poinsettia constantly. I have two cats and they have never been bothered by the plants.
Many people are worried about their animals eating the leaves, because of the question are poinsettia poisonous to their cats & dogs. As with children, they could cause mild nausea and diarrhea, but they do not prove to be fatal. 
The Pet Poison Helpline has more information on their site.
Poisonous Holiday Plants
While it's not true that poinsettia have deadly toxins, you should think about other holiday plants you bring into your home. Lilies, mistletoe, holly berries, amaryllis and cyclamen pose a far greater threat to your pets.
Chemistry.about.com has more information on how these and others are a danger to your animals
That being said, my cats (and my previous cats) never bothered with my many house plants, they much prefer to nibble on grasses.
I hope I've helped clear up the misconception regarding poinsettia. Now, head out to your garden centre and pick up one or two of these beautiful plants! You will be able to enjoy them knowing you don't have to worry about curious hands & paws.
Merry Christmas!
I'm wishing everyone a safe and wonderful Holiday Season! 
I'm linking up to:
Christmas Extravaganza Linky Party at Setting For Four and Debbie-doos